"Honorable mention" at the NCCR Microbiome "Discover the Microverse" image competition
During the 18th International Symposium on Microbial Ecology, NCCR Microbiomes organized a science communication event "Discover the Microverse". For the event, Klara Filek submitted an image that resulted from TurtleBIOME research – a scanning electron micrograph of a small piece of turtle Stella's carapace. She colored the black and white image to emphasize the bacteria and diatoms present, and wrote a caption to familiarize the audience with the "Microverse on the sea turtle's shell". The image was awarded an "Honorable Mention" by the jury consisting of professional science communicators.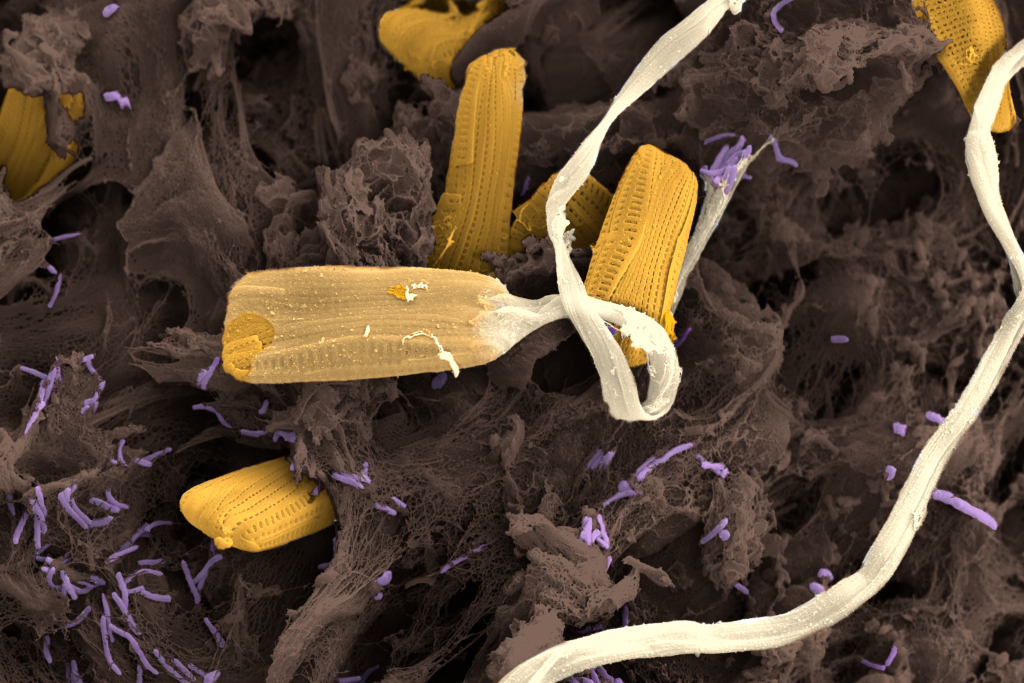 More conferences in 2022! 
In 2022 members of the TurtleBIOME team presented their research at several conferences across Europe: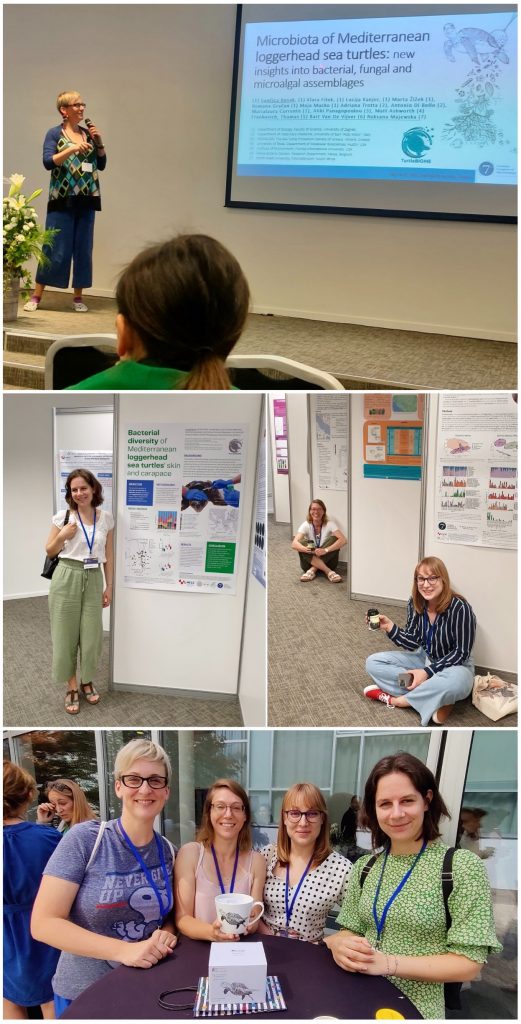 The #FCOM22 turtle talk! Anyone interested in more can also follow our work @Turtle_BIOME 😊 https://t.co/FdIrbDEwvE

— Klara Filek (@Klara_Fil) July 2, 2022
It's great to see so many #hrzz projects presented at #ISME18 in Lausanne 💪@Klara_Fil @LorenaSelak @Maja56823164 @KatarinaKajan @i_stanic @emakostesic pic.twitter.com/NXla1Rk2hj

— Croatian Science Foundation (@hrzz_science) August 16, 2022
9th Conference of Mikrobiokosmos in Athens, Greece
December 16-18, 2021. PhD students Klara Filek and Lucija Kanjer attended their first in vivo conference since the COVID pandemic started: 9th Conference of Mikrobiokosmos in Athens, Greece. 
Lucija Kanjer presented a poster Epibiotic Microbial Diversity of Mediterranean Loggerhead Sea Turtles and Klara Filek presented Loggerhead sea turtles (Caretta caretta) and their microbes: characterizing oral and cloacal microbial communities in a lecture.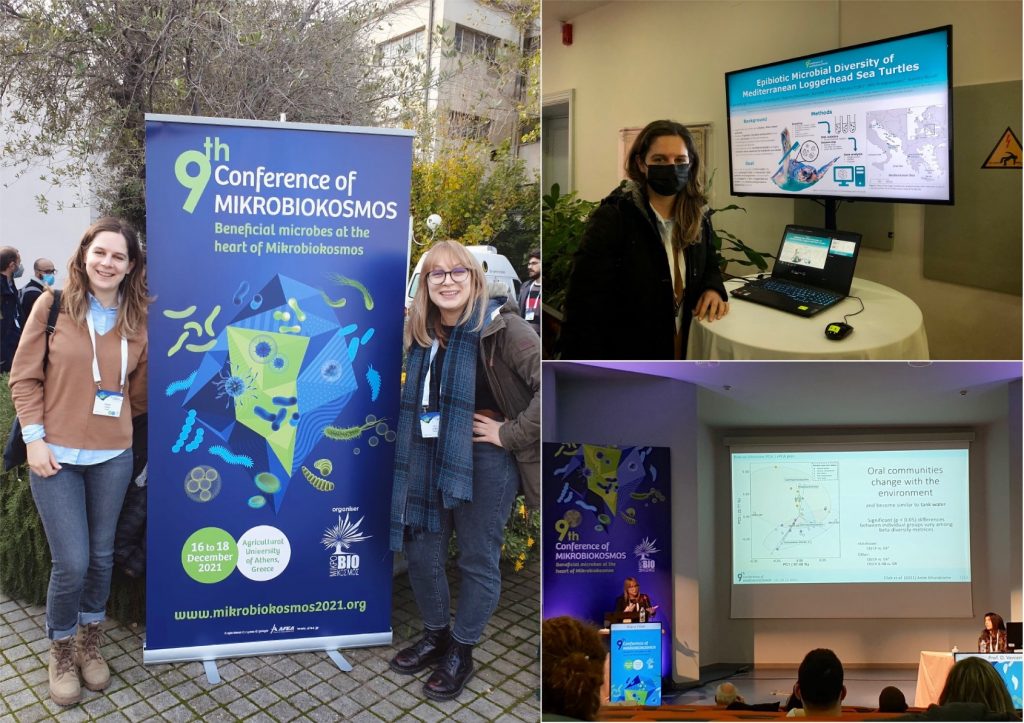 Courses in bioinformatics, data analysis and visualization 
In July 2021 we attended Data analysis with the Tidyverse to learn how to best wrangle data in R, while best practices for data visualization were covered in courses Data visualization in Python (September) and Data visualization in R with ggplot2 (November). Metabarcoding of Microbial Communities in October covered the know-how needed for bioinformatic analysis of marker gene data of microbial communities acquired via next-generation sequencing. With Unix and Shell scripting for bioinformatics in January 2022 we started off the new year of continuous education.
All courses listed here were organized by a wonderful team behind Physalia-courses (Free University (FU) Berlin).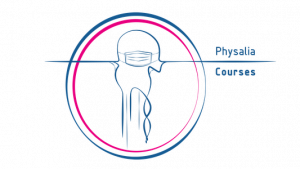 Computational cluster Isabella – workshop 
June 2021. Members of the TurtleBIOME project team participated in a three-day workshop on using the Isabella Computational Cluster at the University of Zagreb Computing Centre (SRCE). They learned how to access the cluster, transfer files and manage and start jobs with applications such as Qiime2, BEAST, and FastQC. Find out more [here].

Summer full of conferences
June – August 2021.  TurtleBIOME PhD students had their hands full with presenting their science during the summer of 2021. Due to the COVID pandemic, the conferences were online. 
During World Microbe Forum (20.06.2021.-24.06.2021.) Lucija Kanjer presented her research on cyanobacterial communities on the skin and carapace of loggerhead sea turtles "Microbial Diversity Associated with Loggerhead Sea Turtles: Cyanobacterial Community Composition", while Klara Filek presented about bacteria associated with diatoms that live on the turtles "From Sea Turtle Associated Microbial Biofilms to Diatom Monocultures: A Bacterial Perspective".
At The Molecular Life of Diatoms 6 (12.07.2021.-14.07.2021.) Klara Filek presented a poster on "Growth dynamics of epizoic Achnanthes elongata and non-epizoic Psammodictyon panduriforme in co-cultures" and at the International Diatom Symposium she presented "Loggerhead sea-turtle-associated epizoic vs. non-epizoic diatoms: isolation, identification, and co-cultivation experiments". This poster presentation won the poster award!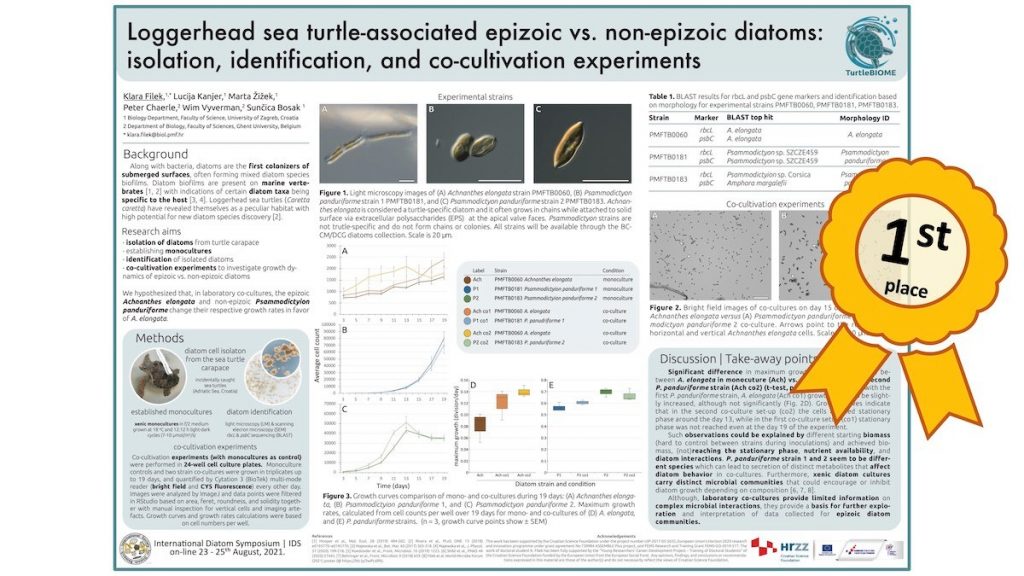 PhD Student Symposium 2021 at the University of Zagreb, Croatia
April 2021. Lucija Kanjer and Klara Filek presented their work at the PhD Student Symposium organized by the Faculty of Science in Zagreb. The symposium was organised as a hybrid symposium with lectures presented online and in-silico while posters were presented online. Lucija presented a poster "Cyanobacteria associated with sea turtles: a diversity study using metabarcoding approach" and Klara presented about "Diatiom co-cultures: close encounters of Achnanthes elongata and Psammodictyon sp." 
See more [here].
ASSEMBLE PLUS & FEMS Grant – project at University of Ghent, Belgium
September – December 2020. TurtleBIOME PhD student Klara Filek visited Laboratory of Protistology & Aquatic Ecology at University of Ghent, Ghent, Belgium where she had conducted her project: "Diatom interactions in the sea turtle epizoic biofilm – EpiDiaInter" with the support of  ASSEMBLE Plus. as well as the project supported by FEMS Research and Training Grant "Unveiling microbial relationships within the sea turtle epizoic biofilm – diatom-bacteria interactions"
You can watch her project presentation and learn more of her work in the video.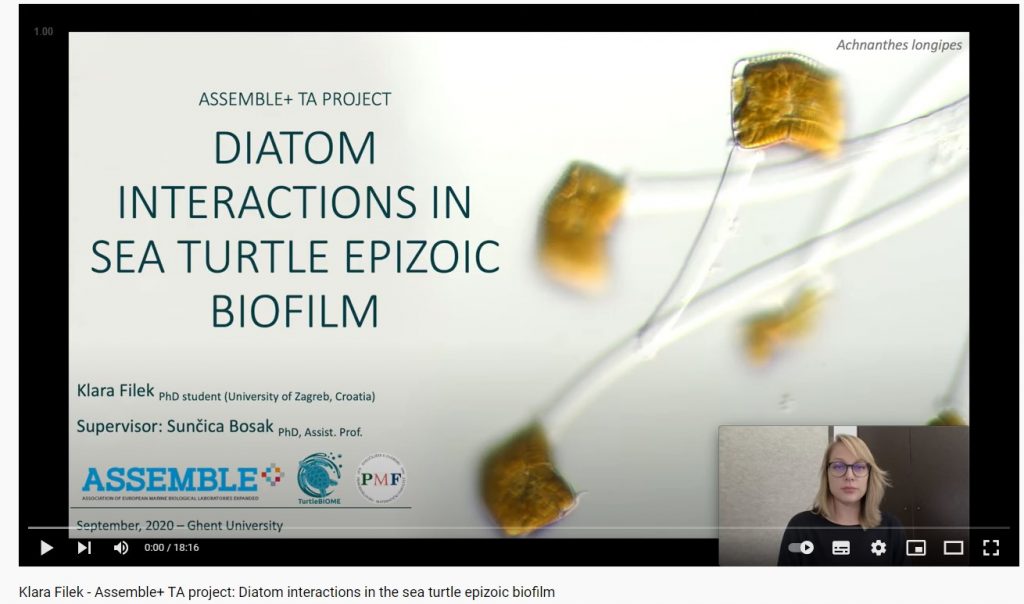 Metagenomics, metatranscriptomics, and multi'omics for microbial community studies – online course
June 1-5, 2020. TurtleBIOME PhD student Klara Filek participated in the advanced bioinformatics course organized by Physalia Courses, Freie University of Berlin, Germany with the main focus on the analysis of meta'omic sequencing data of microbial communities, from the processing of raw sequencing data to statistical analysis of microbial community composition and result visualization (course details).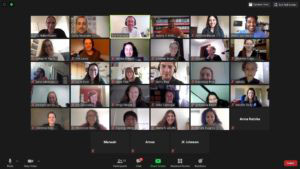 Symposium of doctoral students PMF University of Zagreb, Croatia
28.02.2020. Klara Filek  presented her work at the Symposium of doctoral students organized at the Faculty of Science; University of Zagreb: "Polifazni pristup identifikaciji i karakterizaciji epibiotskih dijatomeja s glavatih želvi iz Jadranskog mora (in Croatian)" eng. Polyphasic approach to identification and characterization of epibiotic diatoms associated with loggerhead turtles from the Adriatic Sea (link)
Seventh European Phycological Congress, Zagreb, Croatia
August 25-30, 2019. Sunčica Bosak along with our collaborator Matt P. Ashworth, presented several aspects of the TurtleBIOME project in oral lectures (Bosak: Metagenomic characterization of the surface biofilm on Mediterranean loggerhead sea turtles; Ashworth: On the shoulders of giants: what epizoic diatoms can teach us about diatom evolution), while PhD student Klara Filek presented poster on Comparative analysis of the epibiotic diatom assemblage on loggerhead sea turtles in pre- and posthospitalization period and collaborator Bart Van de Vijver attended with a poster on Discoveries of new diatom taxa associated with loggerhead sea turtles in the Adriatic Sea.  Conference details can be found on the following link.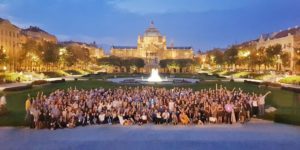 Sixth Croatian Botanical Symposium, Zagreb Croatia
30.08. – 01.09.2019 MSc student Lucija Kanjer had an oral presentation of her work entitled: Diatom genus Poulinea as epibiont on adriatic loggerhead seaturtles,
1st International Conference of the European College of Veterinary Microbiology, Athens, Greece
26.-27.09.2019. Our collaborator Adriana Trotta had presented the results of her work partially conducted in our laboratory as a poster presentation named: Sea turtles as sentinel species of the Mediterranean sea: Isolation of ESBL producing bacteria
Seminar: Marine pollution and TurtleBIOME project. What about Caretta caretta future? Bari, Italy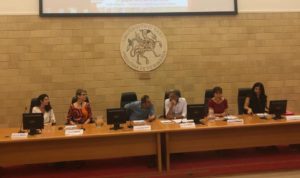 June 21, 2019. The students and faculty members of the Faculty of Veterinary Medicine in Bari, Italy, enjoyed hearing about the diatoms on loggerhead turtles from TurtleBIOME project leader Sunčica Bosak. The visit, which included an invited talk and sampling of diatoms from the turtle Reti in Bari Turtle Hospital, was a part of a long and fruitful collaboration between Dr Adriana Trotta, prof. Marialaura Corrente and Dr Sunčica Bosak. Three lectures can be viewed on the TurtleBIOME Youtube channel.
The molecular life of diatoms, Norwich, UK
July 14-18, 2019. Sunčica Bosak and Klara Filek attended the renowned EMBO workshop on molecular biology of diatoms. They presented the new findings from TurtleBIOME project with posters entitled "DNA metabarcoding and morphological analyses of the diatom biofilm associated with loggerhead sea turtles in the Mediterranean Sea"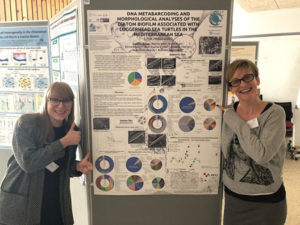 and "A polyphasic approach for identification of epibiotic diatoms associated with loggerhead sea turtles in the Adriatic Sea". The conference details and abstract book can be found on link and link, respectively.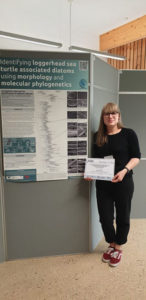 12th Central European Diatom Congress, Belvaux, Luksemburg
26.03.- 27.03.2019 Suncica Bosak participated in the diatomist meeting and presented the poster entitled: New observations on some sea turtle associated Craspedostauros species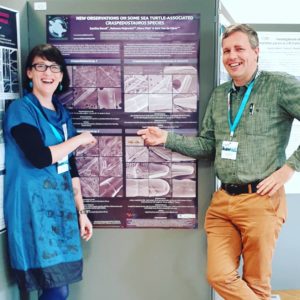 DNAqua
-Net:
"DNA based diatom biomonitoring"
training
school
11-15.02.2019. Hrvoje Višić, PhD student attended the diatom metabarcoding training in France. The program consisted of the theoretical part, explaining the pipeline for diatom samples processing from sampling to bioinformatics, and a practical part where participants applied the gained knowledge starting from the field sampling on the rocks of Geneva lake through the DNA extraction and high throughput sequencing on Illumina MiSeq platform to processing of obtained data and statistics.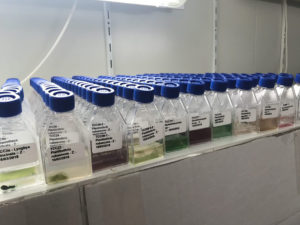 Science in a Cold Paradise – popular lecture
October 30, 2018. Prof. Bart Van de Vijver from the Botanical Garden in Meise and the University of Antwerp, Belgium visited TurtleBIOME project at the Department of Biology of the University of Zagreb where he held a lecture titled "Science in a Cold Paradise". The presentation was held within the regular lectures of the Croatian Botanical Society.  The entire lecture is available on the TurtleBIOME Youtube channel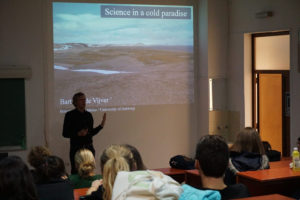 https://www.youtube.com/watch?v=FUFmor_sibM
6th Mediterranean Conference on Marine Turtles
October 16 – 19 2018. Romana Gračan and Sunčica Bosak participated on the 6th Mediterranean Conference on Marine Turtles held in Poreč, Croatia.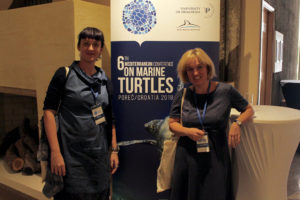 At the conference, the project with its international collaborations was presented with a postal announcement "Loggerhead sea turtle microbiome – TURTLEBIOME project: Insight into endozoic and epizoic communities.
First results were presented with the poster entitled "Epizoic diatoms associated with the neck skin of adriatic loggerhead seaturtle"
At the conference, a new collaboration emerged between TurtleBIOME team and two groups of experts and enthusiasts working with sea turtles in the Mediterranean Sea; LIFE Euroturtles project, which aims to improve the conservation status of the EU populations of sea turtles as a joint effort between Croatia, Cyprus, Greece, Italy, Malta and Slovenia, and the ARCHELON – the Sea Turtle Protection Society of Greece which aims at the protection of sea turtles and their habitats.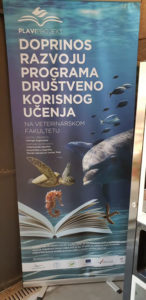 Ocean Optics XXIV in Dubrovnik
October 07 – 12, 2018 Hrvoje Višić,  PhD student, participated at the Ocean Optics XXIV conference held in Dubrovnik, Croatia, with a poster presentation "Multilayer approach to plankton analyzes in contrasting trophic systems of North Pacific".
The poster summary is available at following link.
International Diatom Symposium Berlin
June 25 – 30, 2018 Maja Mucko and Sunčica Bosak participated on the 25th International Diatom Symposium in Berlin, Germany with a total of 6 press releases, of which 4 presented a new discoveries related to sea turtles diatoms (book of abstracts is available on the following link).
We are exceptionally proud of Maju Mucko who won the third prize for the best oral presentation at the press conference:
1. Mucko, Maja; Bosak, Sunčica; Nakov, Theophilus; Ruck, Elizabeth; Gligora Udovič, Marija; Ljubešić, Zrinka "Planktonic lifestyle lovers": a story of eight new marine Entomoneis species. p. 119-119 (lecture)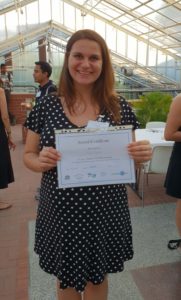 2. Bosak, Sunčica; Majewska, Roksana; Frankovich, Thomas A.; Ashworth, Matt P.; Van de Vijver, Bart New Proschkinia species associated with sea turtles. // Abstracts of the 25th International Diatom Symposium / Kusber, W.-H. ; Abarca, N. ; Van, A. L. ; Jahn, R (ur.). Berlin: Botanic Garden and Botanical Museum Berlin, Freie Universität Berlin, 2018. str. 23-23 (poster)
3. Van de Vijver, Bart; Bosak, Suncica A new epizoic Olifantiella species found on loggerhead sea turtles. str. 177-177 (poster)
4. Majewska, Roksana; Van de Vijver, Bart; Frankovich, Thomas A.; Ashworth, Matt P.; Sullivan, Michael; Bosak, Suncica Morphological variations in sea turtle-associated "gomphonemoid" diatoms. str. 105-105 (poster)
5. Krzywda, Marta; Kaleli, Aydın; Solak, Cüneyt; Bosak, Suncica; Car, Ana; Jasprica, Nenad; Witkowski, Andrzej The influence of sea turtles on the biogeography of marine diatoms based on a case study from the Mediterranean coasts.  str. 88-88 (poster)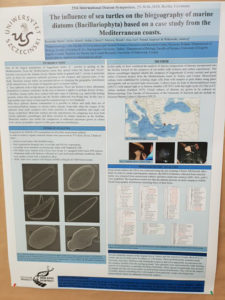 6. Mucko, Maja; Bosak, Sunčica; Mann, David G.; Trobajo, Rosa; Wetzel, Carlos; Peharec Štefanić, Petra; Ljubešić, Zrinka Novel clades of intriguing Nitzschia species from marine plankton str. 118-118 (poster)